Crochet pattern for a girls dress- The Elice Dress!
Well, for a moment, it was quiet here . Not that I do nothing! I still hook a lot, but with 2 little children, a job and the rest that belongs in that picture, I am always steering my time a bit, but actually time also steers me. And then suddenly I think 'hey, actually I have not posted on my blog'. It is true that I really like to do a lot of the things that I kind of 'must' do…. but I do a bit of everything. Apart from the hooking; that, I do a lot! When I have not crocheted for a day, it is often because I have to update the pigsty in my house once again and when I have done that, I discover that I also have a nice house, so I also really enjoy tidy up again and do the cleaning part. But most of all I enjoy this: the result of my crocheted, especially when combined in this way, with my two beautiful and sweet girls…! Read on….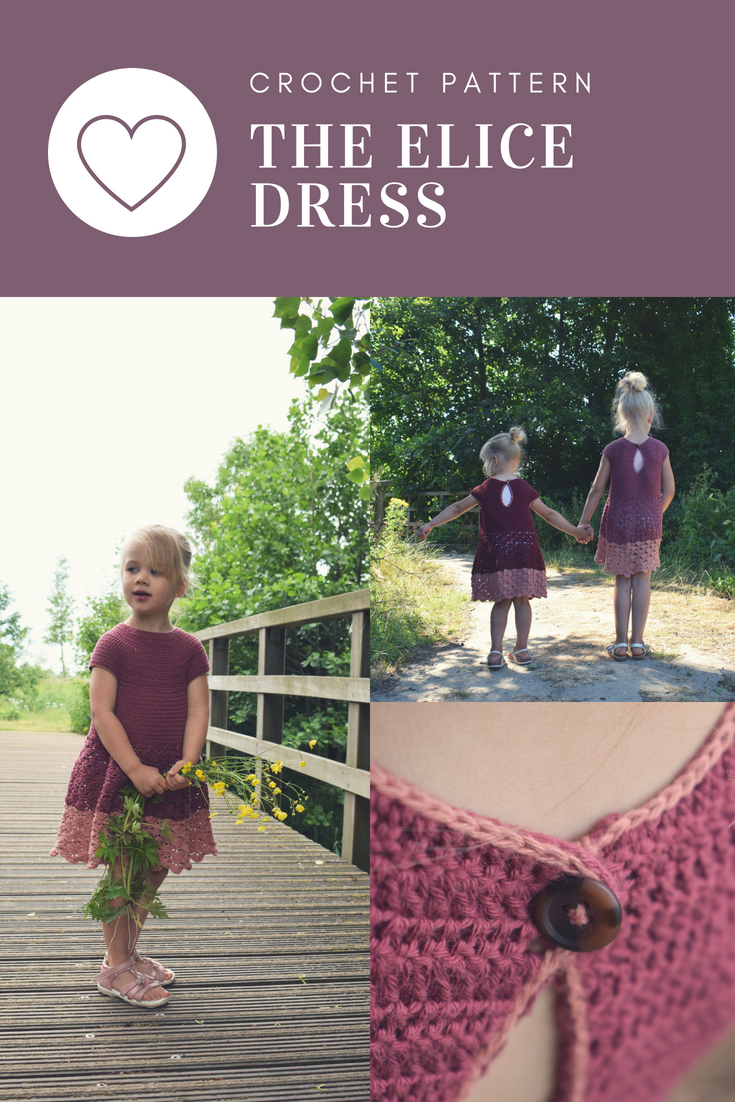 -ADVERTISE-
Crocheted girl dress
Crocheted clothing is so beautiful! Definitely a romantic dress! And that's what I made for Elice, my youngest daughter. I bought the yarn from Sostrene Grenes. I did not know this shop at all and I was in Rotterdam and walked in… they also have yarn! And much too! The yarn has a beautiful matt look, something that looks very nice.
What I regretted is that after washing, it is a bit dull, what is different as mat 🙂 The shop I can really recommend, all kinds of articles for a nice price. From decoration to kitchen utensils to stuff for watercolors and so also wool and yarn!
Crochet pattern for a girls dress- The Elice Dress! 
Well, and now the pattern! The pattern is neatly worked out in a downloadable PDF. I added a crochet diagram and many beautiful clear photos. Furthermore, the pattern is completely written out, there are many people who like this, but I expect when you have the knack, you can hook up without any worries. The pattern is for sale in my Etsy shop, for those who do not like it: send me an e-mail then you can, of course, buy it in a different way. Personally, I like to buy in Etsy. You do not have to fill in (personal information) much and after payment (IDEAL or other ways) you can download the pattern!
The pattern is in size 110/116 (EU) 5T (US)
My daughters of almost 4 and almost 6 fit this well. I am now almost finished with a version in size 98/104, this is for an 3 age years. By combining with colors, you get a very different dress and my girls really love the dresses!
LINK TO THE CROCHET PATTERN, US TERMS

Just look at the photos, do you like the dresses?
With love,
Zusjeknus!