***Scroll down for the english text***
Vest gehaakt
Daar is hij dan! Mijn eerste, volledig afgemaakte, eigen ontwerp vest. Met 'Deep chevrons'! Want wat zijn ze leuk die bewegende lijnen! In de kleuren geel, grijze en taupe. Hoe grappig: in de kleuren van winkel keten 'de Zeeman', waar ik veel mijn wol koop en ook deze.
Op reis
Het vest is op verschillende plaatsen geweest, zoals meestal met mijn haakwerkjes. Bijna overal neem ik het mee naar toe. Zelf als op mijn werk de gelegenheid zich voordoet, ben ik aan het haken. Als woonbegeleider kan dit gelukkig: vaak krijg ik terug dat mensen het rustgevend vinden werken!

Proces
Het vest is grotendeel in één keer gehaakt, maar ook in aparte delen. Omdat het patroon deelbaar is door tien, kun je niet zomaar meerderen of minderen om het vest zijn model te geven. En daar moest ik dus inventief een oplossing voor vinden, maar ook dat lukte!

En eerlijk is eerlijk: wat is het super leuk om gewoon zelf te proberen en er vervolgens een eigen gemaakt vest uitkomt, die je ook nog zelf hebt ontworpen? 
Oordeel zelf maar wat je er van vind! Zijn er meer mensen die ook zonder patroon aan de slag gaan? Als je twijfelt: gewoon beginnen. 'Oefening baart kunst luid het gezegde toch?'
Zusje Knus
Crochet vest
There he is! My first fully -finished, own design cardigan. With 'Deep chevrons'! I like the moving lines so much! In yellow, gray and taupe. How funny: in the colors of the shopping store 'de Zeeman', where I buy a lot of my wool and also for this cardigan.
Traveling
The cardigan has been in various places, as usually with my crochet works. Almost everywhere I take it with me. Even if my job the opportunity arises, I'm crocheting! As 'residential supervisor' may happily: I regularly hear that people find it relaxing when I'm crocheting!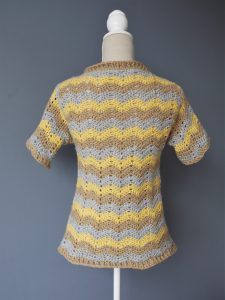 Process
The cardigan is largely hooked at one time, but in also little parts in separate parts. Because the pattern is divisible by ten, you can not just superiors or inferiors to the vest to give his model. And I was so inventive to find a solution 😉
And let's be honest: it is super fun to just try yourself and then there is a homemade cardigan, you also have designed yourself?
Judge for yourself what you think of it! Are there more people who started go crocheting without follow a pattern? When in doubt, just start!